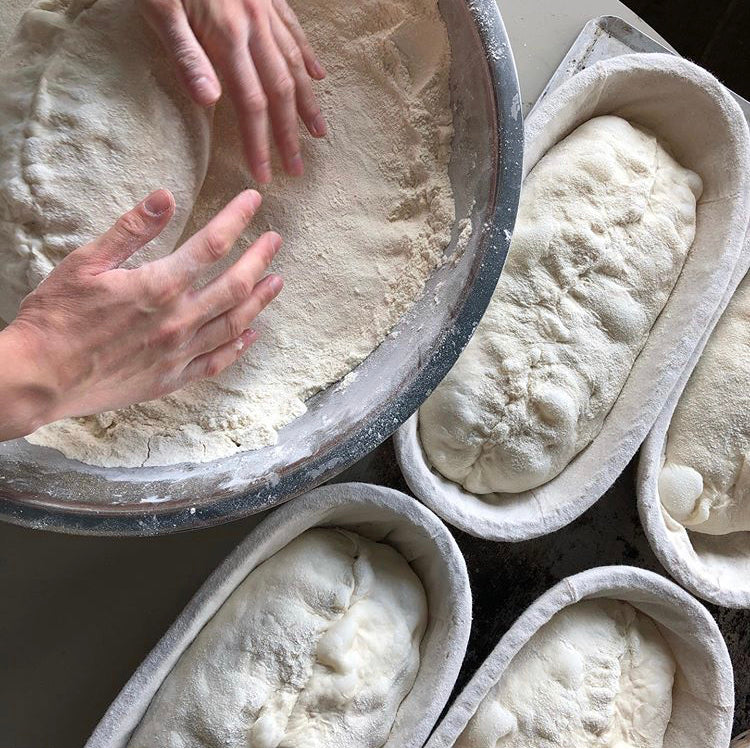 Baked goods. Expertly crafted.
Whether it be our sours, viennoiserie or cakes, each product is made by hand, using skill, knowledge and the finest ingredients. That's all you need to make the magic happen!
About Us
Tŷ Melin Bakery is the brainchild of bakers, Lance Conway-Gardner and Angharad Conway-Gardner. The name 'Tŷ Melin' meaning 'Mill House' in Welsh', is also the name of Angharad's childhood family home.
"There is no other name we could have chosen that is more appropriate for our ethos, a bakery where family is at the heart of it." 
Locations & Opening Hours
Our Sites
* 49 Wellfield Road, Cardiff, CF24 3PA.
Wed - Sun 8:30am-4:30PM
* Bayscape, Watkiss Way, CF11 0AZ.
Wed - Fri 8:00AM-2:00PM
Sat - Sun 8:30AM-4:00PM
* Unit E5, Usk Vale Park, Cwmoody, NP4 0JL
10:00am-2:00pm (Pre-orders only)
Home of The Croissant Bomb™
Created in 2020, Angharad and Lance wanted to create a pastry with a difference, and they did.
The Journey to Ty Melin.
Lance began his baking journey under the direct pupillage of master baker, Richard Bertinet in Bath, where he worked his way up the ranks. He then furthered his career by heading up Harts Bakery in Bristol and went onto head up Harrods Bakery in the newly refurbished food hall. He has since been a teacher at Bread Ahead in Borough Market and now has returned to Wales, Angharad's birth place, in order to create Ty Melin.
Angharad studied languages at Cardiff University and decided to pair her love of different cultures with her love of baking.
Angharad began her career in the hospitality industry by working for Rick Stein in Cornwall. Angharad went on to attend The School of Artisan Food in Nottinghamshire, where she studied for the 'Advanced Diploma in Baking and Patisserie' and achieved distinction. She then went on to work for Hobbs House Bakery in the Cotswolds as an in-house patisserie chef, followed by running the pastry section in a 4* hotel in France. Since returning to the UK, Angharad has helped to set up a handful of Artisan bakeries in the UK. 
The couple's last combined venture before creating Ty Melin Bakery was heading up Pavilion bakery in Hackney, London. 
Baking was the catalyst for their meeting, their combined passion, and now they're making it their future.